✌️🤩🏏 really ... what a game , well played both the teams
I can't get over this #RepublicDay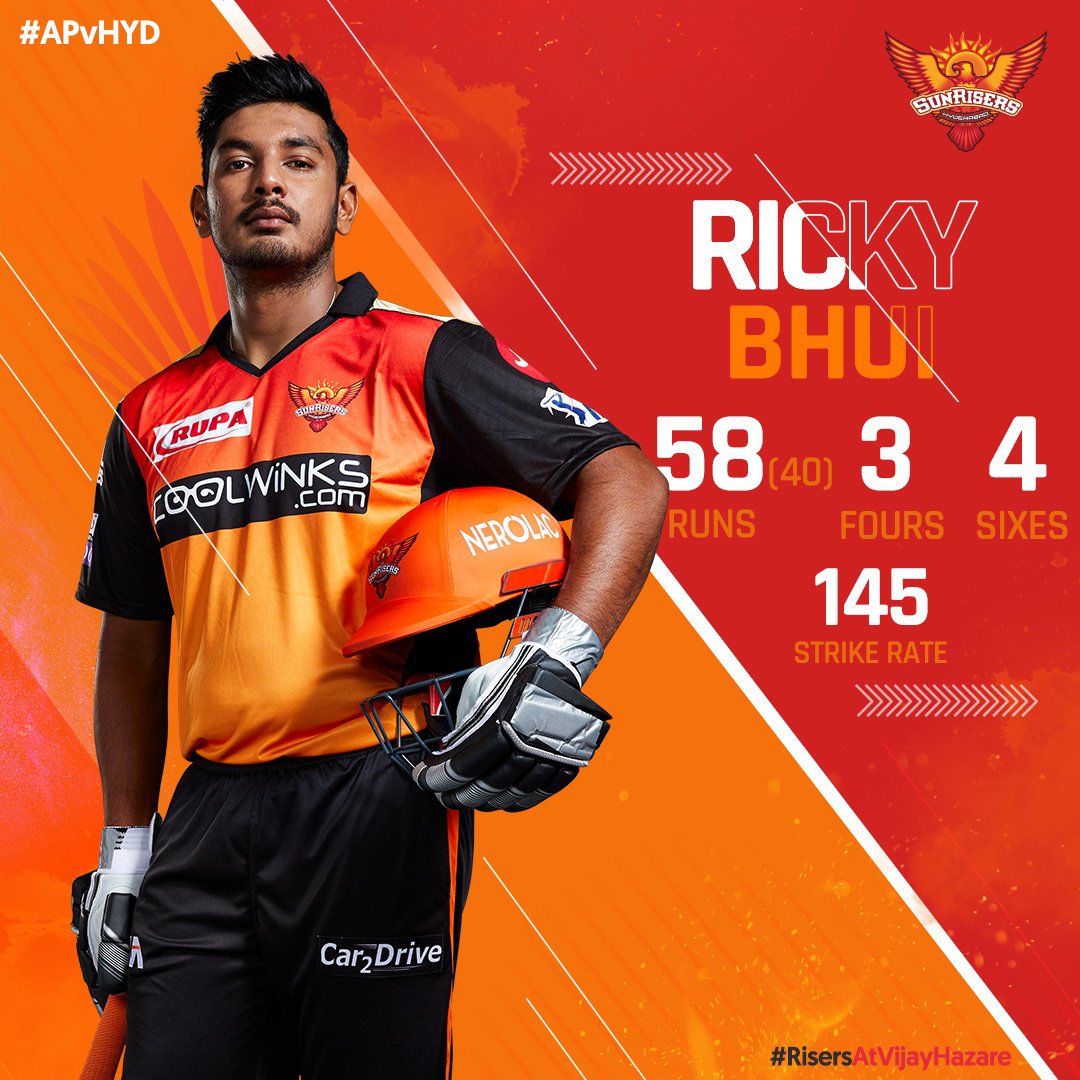 Retweeted: .@im_manishpandey did Karnataka proud again, @iamyusufpathan's 3⃣-fer & 83 helped Baroda win 🆚 Maharashtra and @rickybhui's fifty almost won the match for Andhra at the #VijayHazare today! #MUMvKAR #MAHvBDA #APvHYD #OrangeArmy #RiseWithUs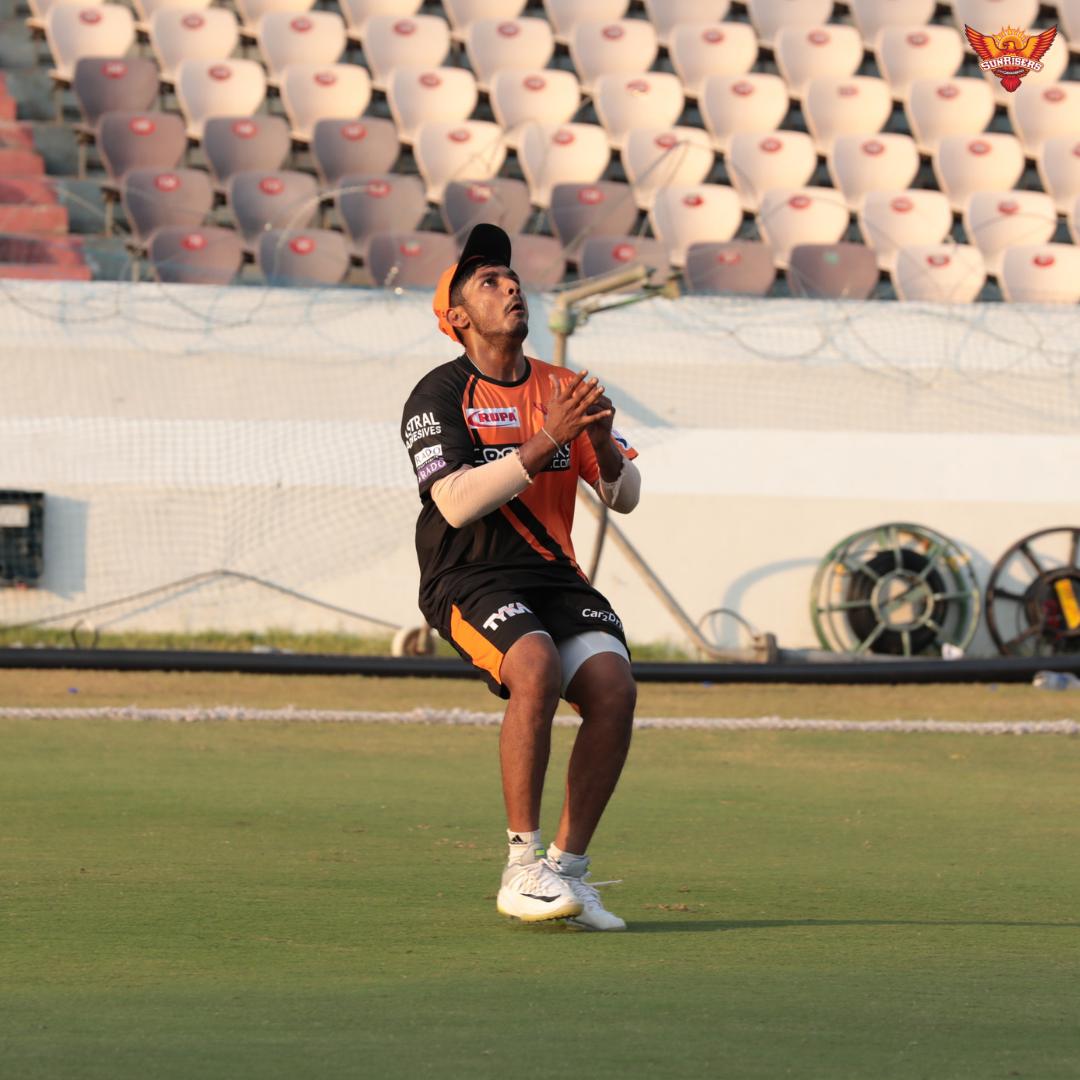 Retweeted: .@im_manishpandey ©, @vijayshankar260, @imK_Ahmed13 & @rickybhui picked for India 'A' squad set to face South Africa 'A' in the 5⃣-match ODI series. #INDAvSAA #OrangeArmy #RiseWithUs
#KaneWilliamson  - respect for you and team New Zealand, for me and every cricket fan you are the Man of the tournament. #CWC19Final #CWC19
@davidwarner31 @SunRisers Some of the old days memories with you sirJi @davidwarner31
Move and and work hard for your next battle #RiseWithUs #OrangeArmy
SunRiser-B win the match chasing the target of 2️⃣1️⃣3️⃣ in just 1️⃣8️⃣. 1️⃣ overs. @rickybhui 65* off 29, a brilliant knock in the first practice match. @shreevats1 13* off 8. #RiserCamp #OrangeArmy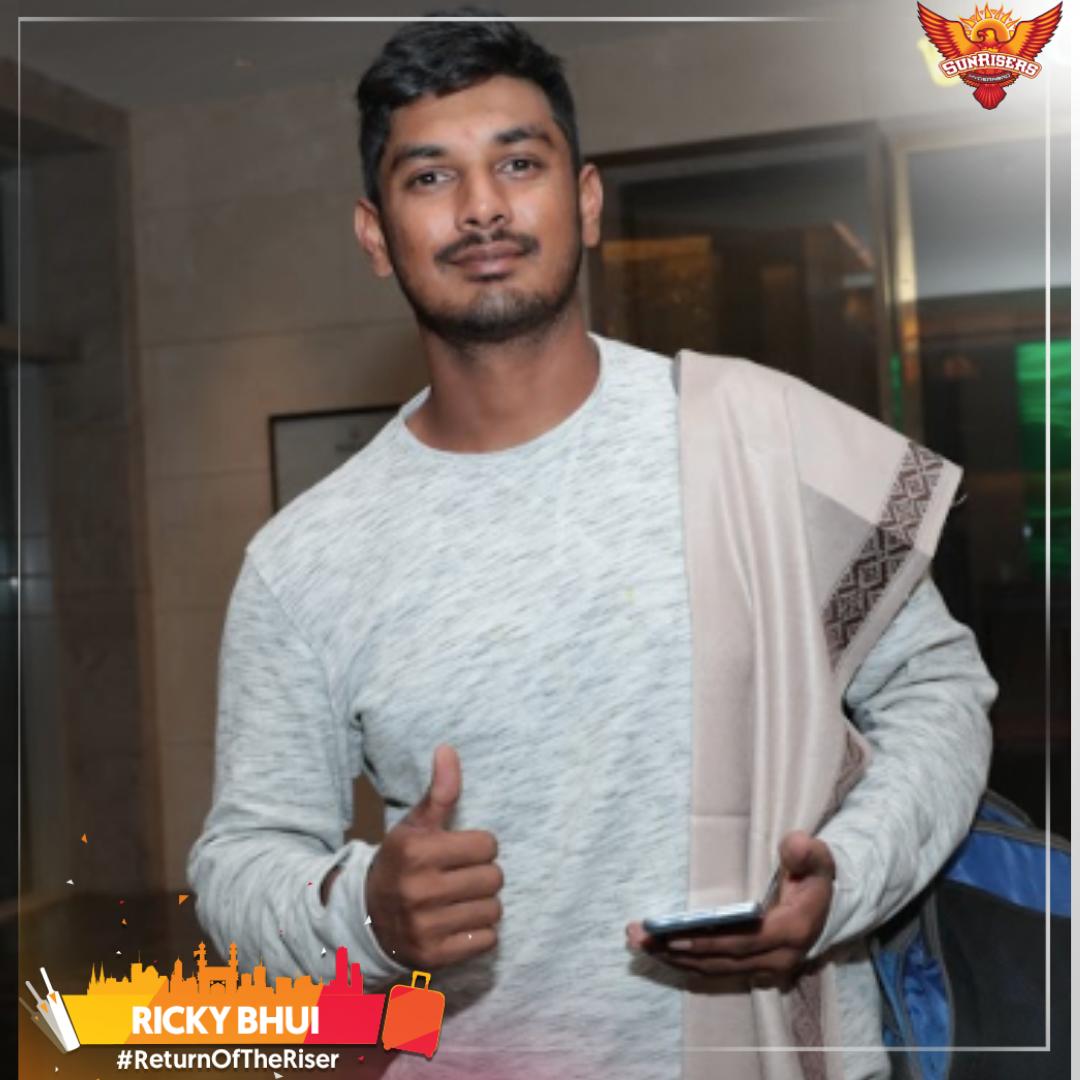 Retweeted: #ReturnOfTheRiser ft. @rickybhui The youngster who has been in top form this season is now in the camp! #OrangeArmy 🧡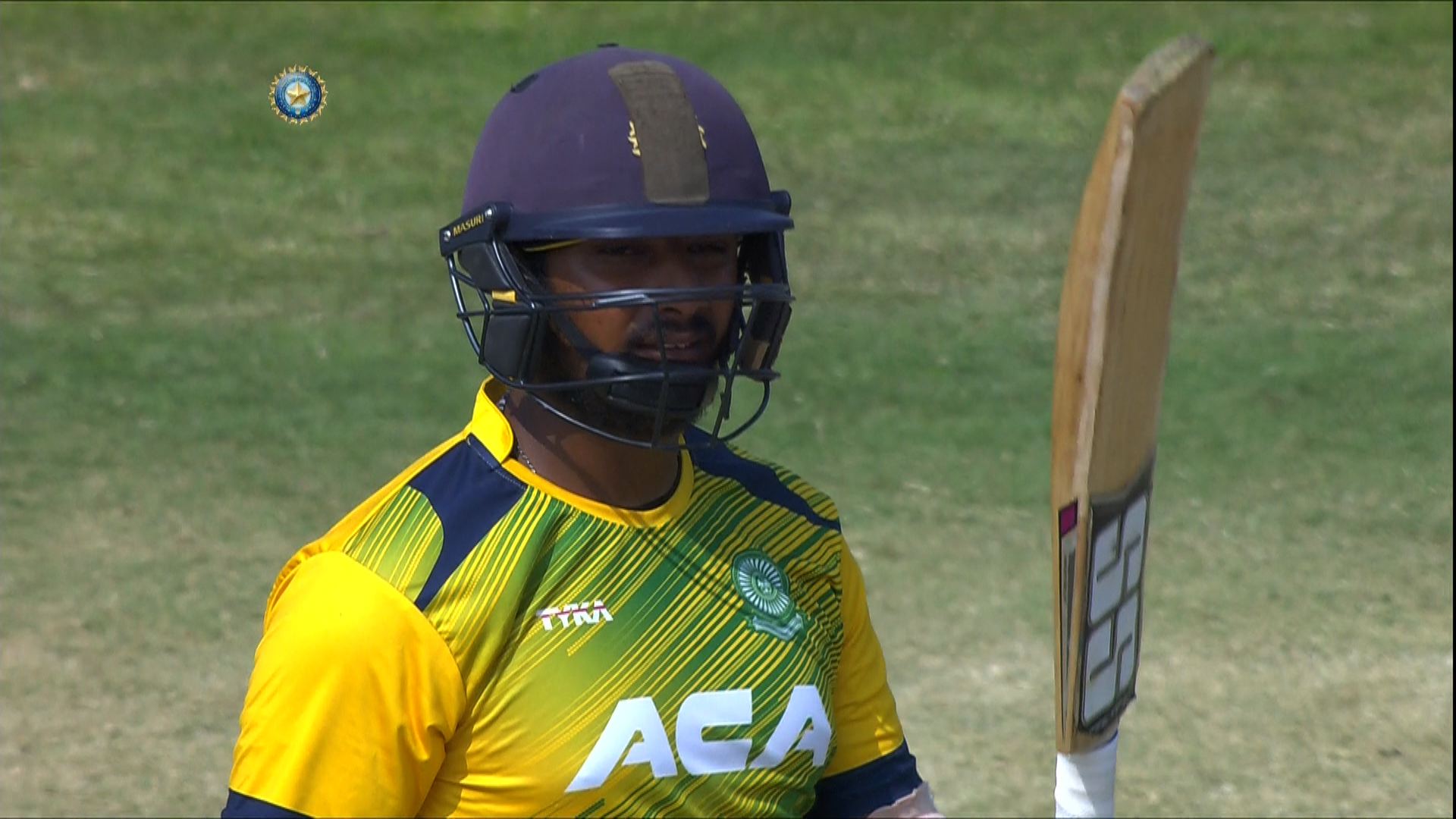 Retweeted: MUST WATCH: @rickybhui blasts 50 off just 16 balls in the #SyedMushtaqAliTrophy match today against Manipur.😲 📹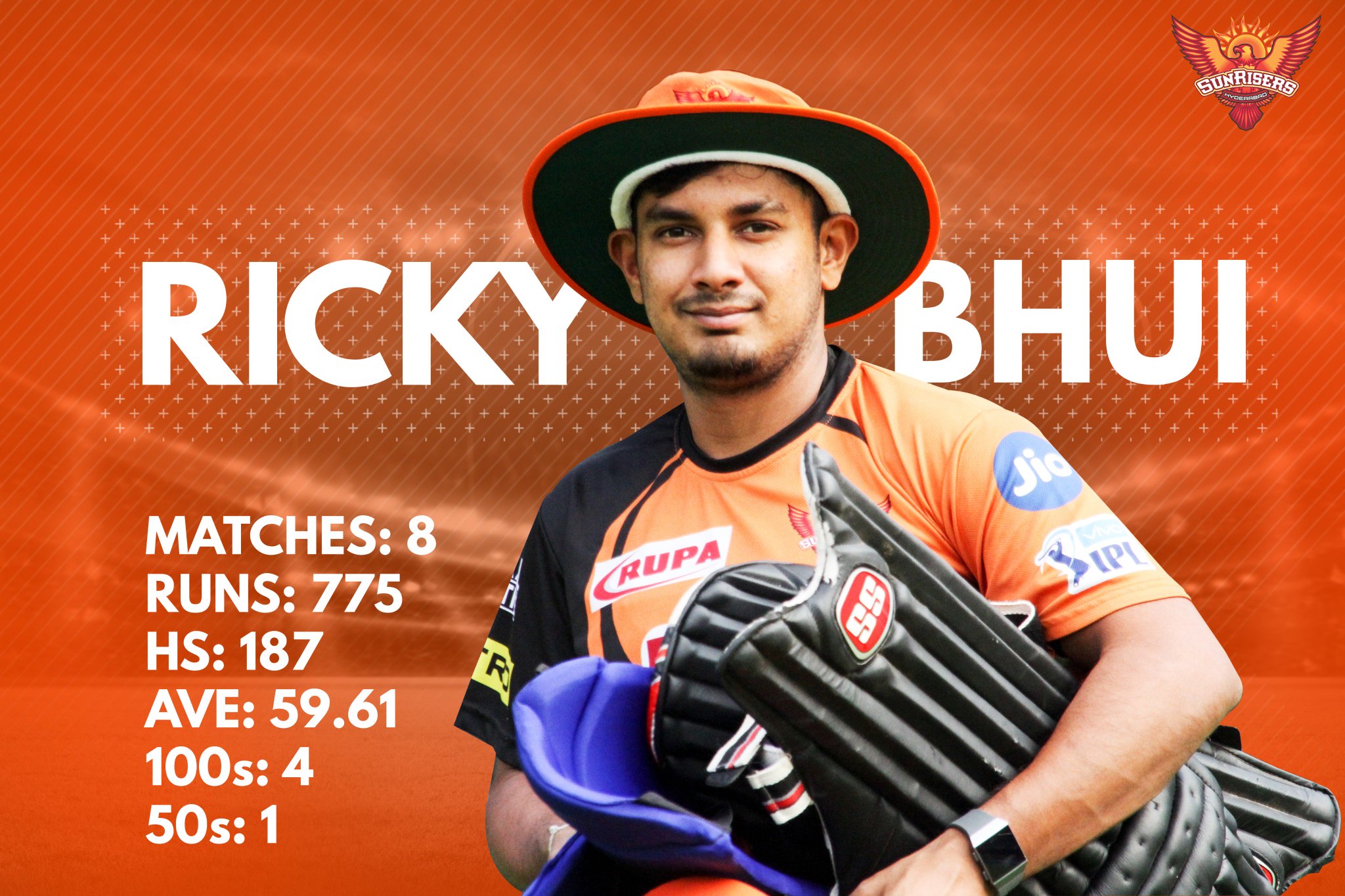 Retweeted: Ricky Bhui had an outstanding #RanjiTrophy 2018-19 campaign, ending as Andhra's top run scorer in the tournament and making a strong contention for national selection 💪 #OrangeArmy #StrongerThanEver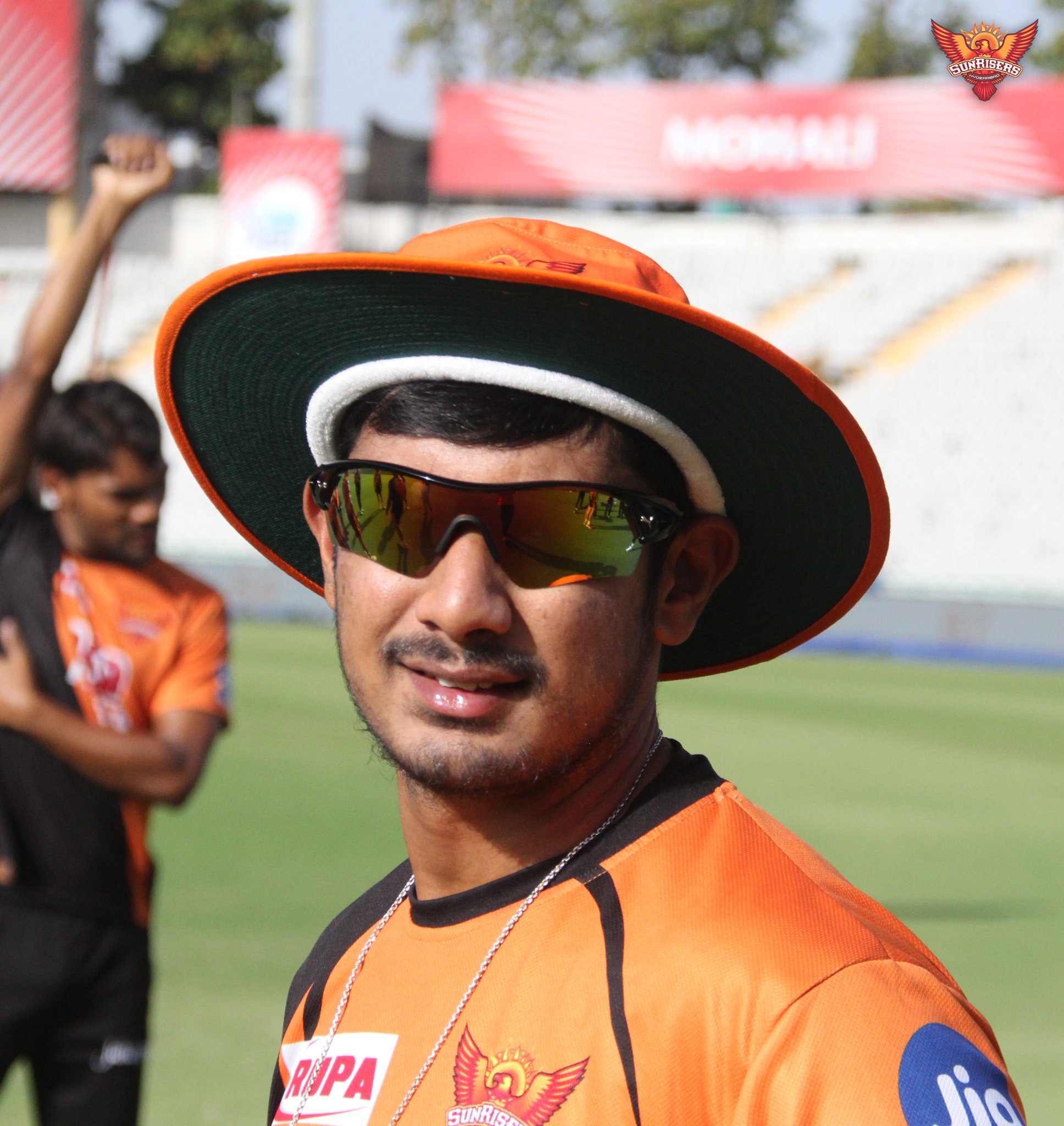 Retweeted: 1⃣2⃣9⃣ 🆚 Hyderabad 🙌 4s/6s: 1⃣4⃣ & 2⃣ @rickybhui smashed his 4th century of the #RanjiTrophy 2018-19, standing tall as Andhra's leading run-scorer in the tournament with a stellar average of 6⃣9⃣.6⃣3⃣ 👏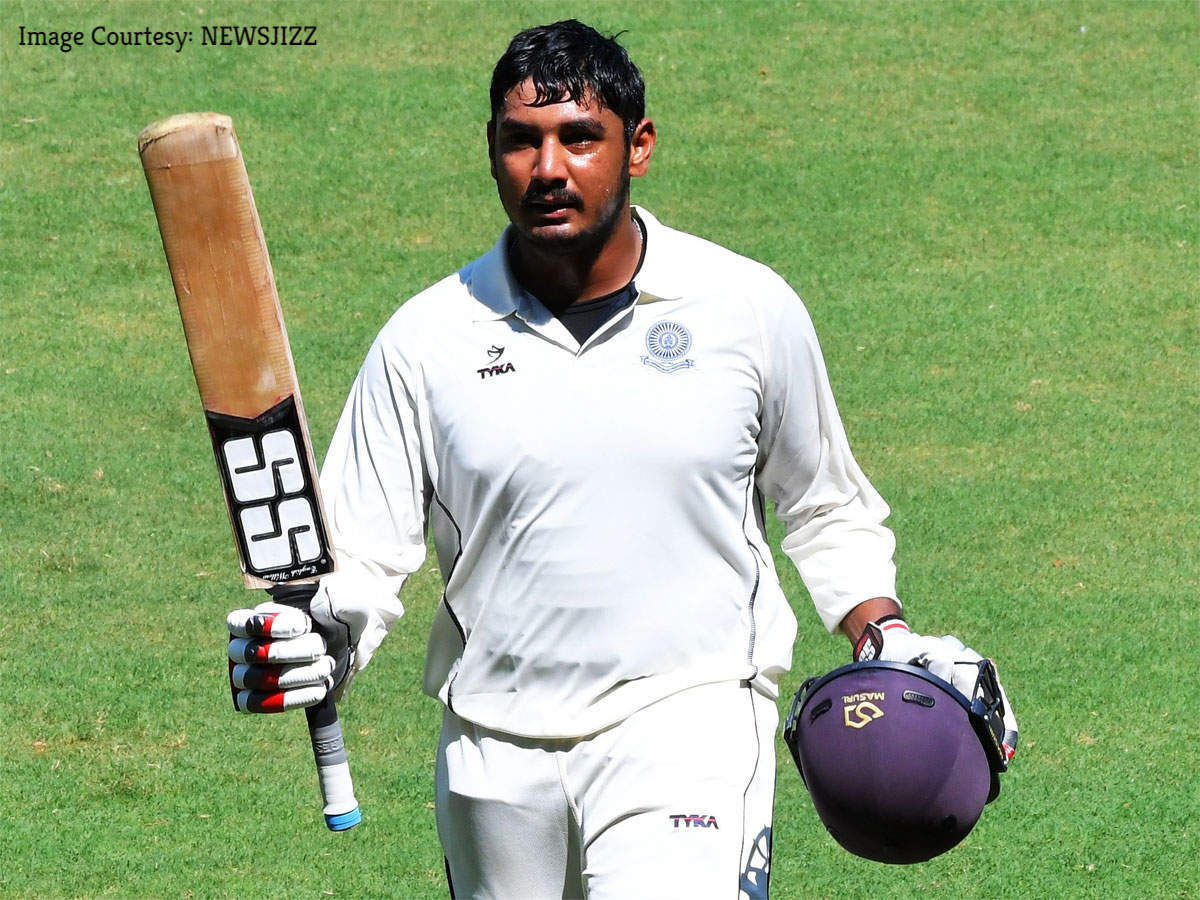 Retweeted: 5⃣2⃣ 🆚 Bengal 🙌 With 6⃣3⃣7⃣ runs in 1⃣0⃣ innings at an average of 6⃣3⃣.7⃣0⃣, @rickybhui is the 🔝 run-scorer for Andhra in the ongoing #RanjiTrophy 2018-19 👏
Thanks everyone for your lovely wishes. Love to all ❤️🤗🎂🎂
#Virat200 #ViratKohli many more odi's , Runs and Centuries to go @bcci @BCCIdomestic @U19ICT
Thank you team @SunRisers and thanks to u Bhai Vikas and @bimbo_cakes for the lovely delicious cake to party...
Happy #RakshaBandhan ... sisters are the face of mother she cares, loves and support you whenever you need her
@imvchoudhary @sreesanth36 Wishes for #Team5 @sreesanth36 Superb trailer ....
Watch our upcoming superstar @sreesanth36 in his DebutMovie #Team5 in Theatres on #14thJuly here is my Video 4 him
@rickybhui Yes India waited for @DrKumarVishwas brother a tag line for u #VoiceOfYouthKumar on @KapilSharmaK9 show
Yes tis is the show everyone nd we together waited for @imvchoudhary , @DrKumarVishwas bhaiya on @KapilSharmaK9 show
very important game for us... support us with all your wishes #orangearmy #SRH #SRHvsGL
@bimbo_cakes wishes @Sunrisers and our Hero's @imDeepakHooda imdeepakhooda and @Rickybhui for making us watch Superb Team Game this @IPL
Very nicely said bhai @imvchoudhary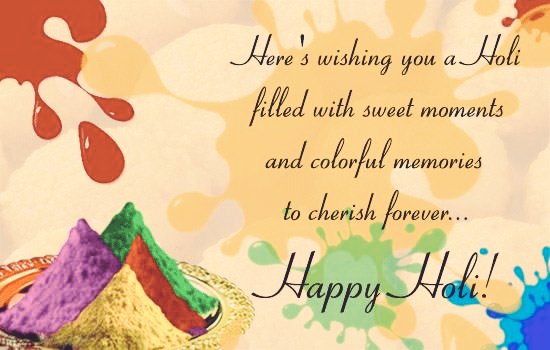 Holi Hai . Wishing everyone a very #happyholi
Lovely brother @DrKumarVishwas
होली के पावन पर्व की सभी को हार्दिक शुभकामनाएं। Greetings on the festival of colours, Holi. May the festival spread joy & warmth everywhere.
Lovely message sir @TomMoodyCricket
Looks cool brother @bimbo_cakes want my selfie with it soon .