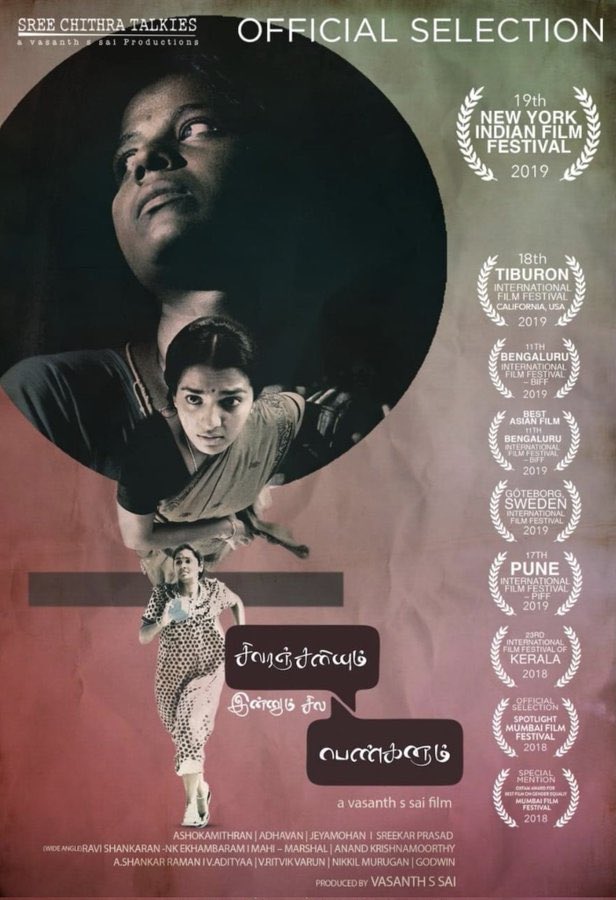 So glad to see the heartwarming response for #SivaranjaniyumInnumSilaPengallum… I liked and enjoyed watching! Vasanth Sir's deep understanding of life reflects in each character. Respects to Vasanth sir and the entire cast & crew. @itsme_vasanth @ilaiyaraaja @SonyLIV
God bless and wishing you both all happiness @moorthyece38
All the best!!! Let it break all records!!!👊🏽
உழவே தலை விவசாயிகளின் அறப்போராட்டம் வென்றது நம்பிக்கை அளிக்கிறது. ஜனநாயகத்தில் மக்கள் தான் எஜமானர்கள். மக்களின் உணர்வுகளுக்கு மதிப்பளித்த அரசின் முடிவு மகிழ்ச்சி அளிக்கிறது. உறுதியாக இறுதிவரை போராடிய விவசாய பெருமக்களுக்கு மனமார்ந்த வாழ்த்துக்கள்… #FarmLawsRepealed #FarmLaws
The time is immaterial when we come with a bang 🗡 Our Pongal,Diwali is all slated for Feb .let's celebrate it together 👍🙏 #ETOnFeb4th #EtharkkumThunindhavan https://t.co/DPDCgjdnrM @Suriya_offl @sunpictures @immancomposer @RathnaveluDop @priyankaamohan @AntonyLRuben
Thank you!! @pandiraj_dir @priyankaamohan @RathnaveluDop @immancomposer @AntonyLRuben @sunpictures #ETOnFeb4th
இன்னொரு ஹீரோ கிட்டேருந்து வாழ்த்து வாங்குறது சந்தோஷமா இருக்கு :)
@TRBRajaa True! Thank you!
@vijaymilton @2D_ENTPVTLTD @tjgnan @jose_lijomol @rajsekarpandian @PrimeVideoIN அன்புக்கு நன்றி!
@manuvichar True many brave men and women like Chandru & Sengeni are the real heroes!
@Subramanian_ma உங்கள் அன்புக்கும், வாழ்த்துகளுக்கும் நன்றிகள்!
@realradikaa Thank you akka! You are always very kind.
@thearvindswami Chief! Thank you means a lot.
@HansrajMeena Thank you Sir. We are glad you all liked our film.
@C_T_Lakshmanan Thank you for watching our film and sharing your views Sir!
@rparthiepan Thank you for always looking out for me Sir!
@Vijay_B_Kumar @2D_ENTPVTLTD @rajsekarpandian @tjgnan Thank you Vijay!
@director_radhaa Thank you
@satishacharya Thank you!
Thank you Sir! An IPS officer like you appreciating our film means a lot to us.
Thank you Sir! Glad you liked our film.
@PasupathyMasi @jaibhim @jose_lijomol @tjgnan @prakashraaj @rajsekarpandian @RSeanRoldan @srkathiir @KKadhirr_artdir @philoedit @rajisha_vijayan Pasupathy Sir Thank you!
@seethakkaMLA @RahulGandhi @priyankagandhi @vidyarthee @manickamtagore @kumari_selja @digvijaya_28 @srinivasiyc @JitendraSAlwar @jigneshmevani80 @INCIndia Thank you Ma'am on behalf of our whole team!
@VNRCollector @jmeghanathreddy @TThenarasu Thank you!
@dhilipaction @sr Master thank you…!
@MeenasSugrive Thank you Ma'am!
@ChloeAmandaB Thank you Ma'am!
Truly overwhelmed to receive this feedback from you Ma'am. Lot of respect for what you do. Many thanks to you on behalf of our #JaiBhim team.